Also known as Engrish:
Knock things over,
Lightning sofa
~Infinite
Lipstick Chicken Butter Roll...
~G.NA
I wanna come to me, Girl!
~B2ST
Ma Donut Donut Donut,
ma Donut Donut Donut
~Secret
She Got that Soup I Lub uh uh uh uh
~ Teen Top
4Minutes slap, 4Minutes slap UH UH
~ 4Minute
PUSH PUSH BABY, JUST LIKE SISTAR
~Sistar
Latin girl, Mexican girl, American girl, Japan girl, Korean girl

~ ZE:A
Fikshen/ Infliction/ Eviction

~ B2ST
Imma so gay... SAY NOO!

~B2ST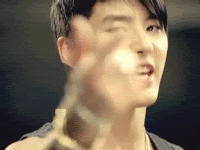 Sushi Sea, Red Ocean
~TVXQ
I DAA NAAAAAAAAA!!
~B2ST
Ijen Kupai Kupai Kupai...
~FT Island
POP POP POP MA COLLAR
~Hyuna
CRACK CRACK CRACK CRACK
~Seungri
Hell No, Hello No
~SHINee
PANTS. PANTS. PANTS. PANTS.
Stick it in the hole, stick it in the hole, stick it in the hole
oh OH
OH
~Super Junior
CN Blue`s English Version of "I Don`t Know Why". I swear, it's literally cut and paste from Google Translator. The weirdest thing I`ve ever heard that makes zero sense whatsoever. Thank Christ for Yonghwa's voice...
Don't be scared, baby. Atom bomb is coming!
PAHAHAHA Junhyungie, your Engrish is commendable...
Urban Dictionary: Supersonic - a 'cool' english word part of the 'ic' family that is easy to rhyme added to nonsensical Kpop songs written by SM Entertainment
SM's attempts to ryhme:
"Loverholic, Robotronic"
"Fantasic, Elastic"
"Mysteric, Hysteric,"
"Electronic, Matic, Supersonic, Bionic, ENERGY"
"Supersonic" and "Hypertonic"
The infamous "Just Gimme Yo Chicken" at 0:27
Priceless.
I still can't forgot Shock of B2ST.
Seriously, the chorus was grammatically messed up.
"I'll break yo shit tonight"
"Every day I shop SHOP Every night I shop SHOP"
Haha, funny thing is that would make more sense than "Shock". I mean what are they shocking every night?
Overall winner is of coarse: B2ST!
Congrats Cube, perhaps you should polish up your English :)
Listening to: Super Junior - Opera